Hello everyone!
Sorry for the delay, I wanted to post this yesterday, but... it's just a too long and sad story. Anyway...
This week, or should I say the last two weeks, have quite been a chaos. But it's alright, we now got all entries and we can start now with the ceremony.
Unfortunately Jasmin couldn't judge with us. So Maria, Marie and I had a look at your tasks and this is our decision.
The circus shoot actually turned out pretty good. I like the pose and the idea. Maria also likes your photo very much. Unfortunately, the photo is lacking in quality, but that's okay because I know that you aren't all that practiced with graphics.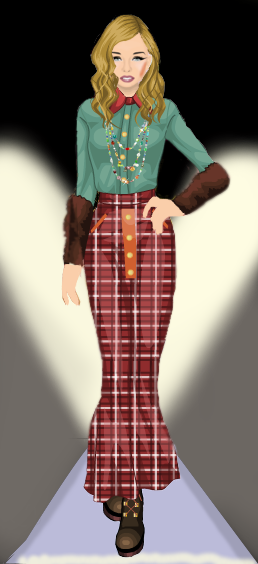 This is definitely not Crazy Couture. It's not even couture at all, it's more Prêt-à-Porter which is the complete opposite of Couture. I'm very disappointed, but not only because of this picture...
An anonymous user wrote a comment with a link to a picture which I recognized at once. Watch this:
I don't even have words for this. I mean, taking the hair or the pose of a dress-up doll is one thing, but taking the whole picture and slightly edit it is just copying. And it's very unfair to all the others who worked so hard on their tasks. I mean, you could have at least taken a different background or different clothes.
Sorry, we cannot accept that. I'm sure you didn't want to harm anyone or cause any problems, but this is in fact stealing.
Cayla, I'm very sorry but this means that you are eliminated! It was still nice to have you in this competition though. I hope you aren't too disappointed now, but don't forget that we'll see each other again very soon..
This photo turned out quite good although I'm not a big fan of that background. What we all don't like about the photo is the hat, I mean you just half of it. What I also don't like about it: It's a little overwhelming. The main thing about the photo is you, so I personally would have liked to see you in the center of attention and not the animals.
Sorry but I really don't like it. It's not Crazy Couture and it looks waaaaay too masculine. Don't get me wrong, I like the graphic and the outfit, but it's just not what we wanted to see. Also, the pose is too ordinary. I'm sorry to tell you but you have to wait for our final decision because you're in the Bottom 2...
Wow, this is amazing! This would be an awesome show at the circus. Marie, Maria and I think that this is actually one of the best photos this week! Maria even mentioned that this is one of the bravest ideas yet. Well done, Clara!
What can I say? Crazy hair, crazy outfit, amazing presentation... simply perfect! You've really improved sooo much since the last task. Congratulations Clara, this means you are in the next round. Very well done!
I.. am ... speechless! This is simply amazing. So artistic, so extravaganct... I love everything about it except the background, in my opinion it's a little plain. Maria said that the make-up isn't her cup of tea, but it's indeed fitting the outfit. Great job, Jody! :)
Now that's what I call Crazy Couture! It's very outstanding and one of the best outfits this week. I also love the pose. I think I don't need to say more. All judges think that you are one of the three best contestants this week! This means you are in the next round and maybe you'll also become winner of the week...
The photo is actually very good, but there some are tiny little flaws. For example, you look like a giant (or the people in the background are too little, whatever..). Also, we don't really get to see your pretty face. But all in one this is a very beautiful photo. I like the idea and the pose is very crazy. Well done, Inessa.
I don't really like your second task. It looks very rushed and I'm not a fan of your color scheme. The pose is too simple and I hope I don't have to mention that you were VERY late. Oh well...
But the outfit in general is very crazy and I think it's still a nice piece of work. But next time please make sure to be more punctual. Yes, there's gonna be a next time. You're in the next round, congratulations! :D
What an amazing photo! It's very crazy, very edgy and a wonderful idea. Maria also said that she simply loves this photo. Nora, this is again one very beautiful result!
Maria told me that she thinks this could be something that Lady Gaga would wear. I have to agree, this looks so crazy and fierce. The hair also reminds me of Malificent from "Sleeping Beauty". I love the patterns, the dress, the runway... it's perfect!! Congratulations, you are also in the next round.
Wow! That's what I thought when I first saw this photo. It's simply amazing, very crazy, very artistic and absolutely stunning. I love the color scheme, the make-up and the shoes. Although you were very late, this has to be one of my favorite photos this week!

Mmm, Dior... I love Dior and their Couture dresses. I think your version turned out pretty good. It's soft but there are edgy accents like the headpiece and the make-up. This is high fashion, this is Crazy Couture.
Manda, I have to tell you that you're in the next round! Congratulations, you did a great job.
I personally like this photo. The graphic is well done and I love the background. Maria also likes your circus picture but she thinks the hands look choppy and not very realistic. I as a graphic designer have to agree, but hey, I think that doesn't really matter as the overall result is quite good.
Well this is more Haute than Crazy Couture. Plus there's no runway. I mean, it looks very elegant and sophisticated, but that's not what we have expected. I'm very sorry but you are in the Bottom 2.
Despina vs Flora
The Finale is getting closer with every day, and that's why we have to eliminate two persons this time. And one of you will be joining Cayla... I always hate it to let people leave the competition, but that's the game. Only one can be the winner.
Flora, you were very weak this time. I was very disappointed because last week you were so strong. What happened? Despina, you were indeed better than last time, but still not outstanding (although Maria thought that your "Crazy" Couture outfit was much more interesting than Flora's outfit).
*sigh*
One of you will still have the chance to fight for the title. And that girl is..........
Flora!! Congratulations, you are in the next round. I hope you will do better at the next task.
Despina, I'm very sorry but you are eliminated. The reason why you have to leave us is that we haven't seen any huge improvement for the last three weeks. I hope you had fun being a contestant here, and don't forget that you will be part of the Top 12 Walk in the Finale. We wish you all the best for your future.
That's all folks! We still couldn't decide for the winner of the week, but I will announce her tomorrow as well as the 6th challenge.
xoxo Rafael